Being a WWE Superstar is not easy. Even though the performers are trained professionals, the risk of in-ring injury is never zero.
Over the years, there have been some gruesome injuries in the squared circle, some of which have completely changed superstars while others have been left unable to wrestle ever again.
Here is a list of three of the worst injuries that have occurred in a WWE ring. Note that this list will not cover any deaths caused by in-ring accidents and so cases like Owen Hart's will not be mentioned.
3. Shawn Michaels suffers a back injury at WWE Royal Rumble
Shawn Michaels faced The Undertaker in a casket match at 1998's Royal Rumble. The two legends went at it as usual until the Deadman lifted Michaels up for a back body drop that saw him hit the casket with his lower back.Michaels' injury was certainly much more serious than it looked, as even though he barely hit the casket, he herniated two discs and completely crushed another on landing. Shawn wrestled one more match before retiring from in-ring competition due to the injury.
He would return to WWE in 2002, with his first match back being against Triple H at SummerSlam.
2. Mick Foley at King of the Ring 1998
Mick Foley took on The Undertaker as Mankind at King of the Ring 1998, in one of WWE's most iconic matches.The pair faced each other in the third Hell in a Cell match ever. In an attempt to surpass the previous year's iteration, Mick Foley told The Deadman to throw him off the cell and onto the ringside announce table. The Undertaker was reluctant to agree but was persuaded by Foley.As Taker walked into the match with a fractured ankle, Foley believed that the bout needed something that had never been done before to make the WWE Universe believe that it was great.As planned, during the match, Foley was thrown off the cell and landed on the Spanish announce table 22 feet below.
WWE's medical personnel made their way out to check on Foley and attempted to stretcher him out of the arena. However, he fought them off and climbed back on top of the cell.The Undertaker then chokeslammed him through the cell, and Foley landed in the ring below. He was hit by a steel chair that fell through with him, which knocked him briefly unconscious.
Foley has since admitted that he did not take the chokeslam properly due to exhaustion. If he had, he could have died if he landed properly.Mick suffered a concussion, bruised ribs, internal bleeding, and a dislocated jaw and shoulder during the match. He also lost several teeth.
1. Droz's Paralysis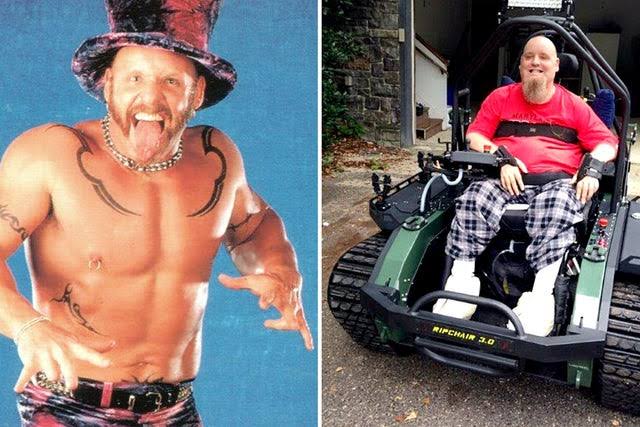 On October 5, 1999, Droz wrestled D'Lo Brown on SmackDown. Droz worked under the name Puke in WWE due to his ability to vomit on command. This was a nickname he earned while playing football.During the match, Brown attempted his signature powerbomb. Droz was wearing a loose shirt and D'Lo was thus unable to firmly grip his opponent in anticipation of the move. Droz was also unable to properly gain the height required for the move to be executed.
As a result, he landed on his head and immediately fractured two vertebrae in his neck. He was left quadriplegic as a result of the injury, with no movement below the neck. As time went by, Droz managed to gain movement in his upper body and arms, but it remains one of the most horrific injuries ever suffered in a WWE ring.