WrestleMania is the Showcase of the Immortals for a reason as it is the biggest extravaganza on WWE's calendar. Since its inception in 1985, WrestleMania has grown bigger as every year that passes by. Typically, WWE reserves its biggest and best matches for WrestleMania. Rivalries in any sport have given a new theme and good excitement to the world as people love to see their favourite team/ individuals coming in front of each other. WWE has showcased some of the most legendary rivalries in all of professional wrestling. Find out with this article about the greatest WrestleMania matches to ever telecast in WWE television.
5. Ricky Steamboat vs. Randy Savage
Date: March 29, 1987
Event: WrestleMania III
Hulk Hogan may have slammed Andre the Giant to cap WrestleMania 3. But it was Ricky and Randy who would inspire a new generation of wrestlers. The image of Steamboat celebrating along with Steele, and the realization that the evil Savage had an exclamation point on one of the greatest matches of all time and one of the most influential bouts in all of sports entertainment. Steamboat, seeking revenge for a cowardly assault that nearly ended his career and cost him years of hard work and dedication.
4. "Stone Cold" Steve Austin vs. The Rock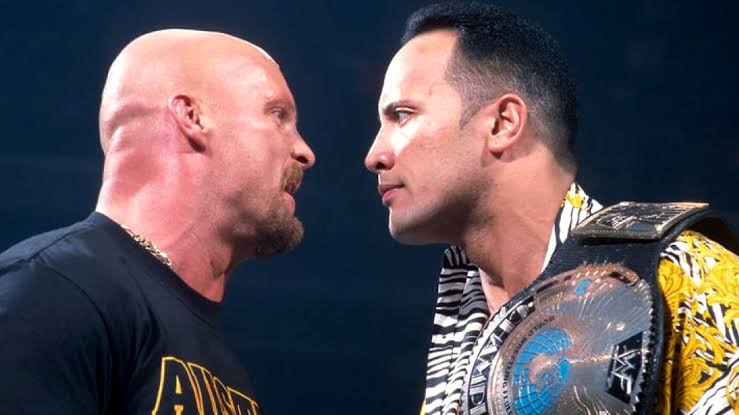 Date: April 1, 2001
Event: WrestleMania XVII
This is the biggest match in wrestling history. You can argue about Hulk Hogan vs. Andre The Giant, Hulk Hogan vs. The Ultimate Warrior, Ric Flair vs. Steamboat or The Undertaker vs. Shawn Micheals. But WrestleMania 17 saw the two biggest stars in pro wrestling history, during the industry's most popular era going at it while both were youngsters. When Mr McMahon made his way to the ring late in the match, most felt it was only a matter of time for Austin to win before he interfered but the matches between Austin and Rock were superhits. The main event at WrestleMania 17 is one of those best moments fans will never forget.
3. The Undertaker vs. Triple H
Date: April 1, 2012
Event: WrestleMania XXVIII
At WrestleMania XXVII, Triple H nearly defeated Undertaker. After narrowly staving off defeat the previous year, The Deadman defeated Triple H with Shawn Michaels as the guest referee, culminating a four-year cycle and marking the "End of an Era" inside Hell in a Cell. This was billed as an "End of an Era" match. The Undertaker was 47 years old at the time of the match while Triple H was 42 years old. Michaels is the same age as Undertaker.
2. Bret Hart vs. "Stone Cold" Steve Austin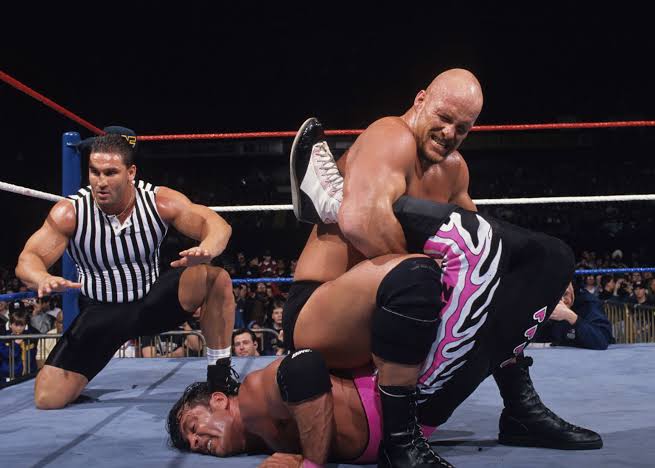 Date: March 23, 1997
Event: WrestleMania XIII
One of the greatest matches in WrestleMania history is a prime example of talented wrestlers fighting with each other for a common goal of achieving greatness on wrestling's grandest stage. It's hard to believe it's been 25 years since the match that changed the face of professional wrestling. The submission match at WrestleMania 13 officiated by Ken Shamrock gave Hart the win but Austin never quit. The image of him bleeding down his face before he passed out marked the true start of WWE's Attitude Era and Stone Cold becoming the biggest star in wrestling history.
1. Shawn Michaels vs. the Undertaker
Date: April 5, 2009
Event: WrestleMania XXV
No one ever thought that The Undertaker's winning streak would end. And it didn't at WrestleMania 25. Two of WWE's greatest superstars met in the middle of the WrestleMania XXV with expectations of a fantastic pro wrestling match. What Shawn Michaels and Undertaker delivered, though, was an instant classic that had some fans proclaiming it to be the greatest match of all time. Undertaker won the match and remained undefeated at WrestleMania, extending his record to 17–0.
About Post Author