WrestleMania 38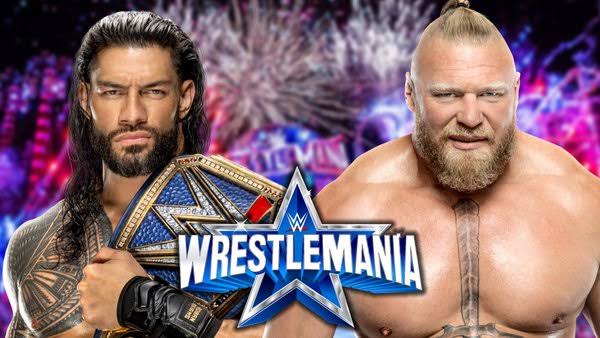 All of this brings us to WrestleMania 38. Lesnar continued to antagonize Reigns after the Crown Jewel loss, making Reigns so paranoid that he fired Heyman as his special counsel at the end of 2021. The two were supposed to wrestle at the Day 1 pay-per-view to kick off 2022, but Reigns was pulled from the match due to COVID-19. Lesnar was then added to the WWE Championship match (now a five-way) and won after pinning then-champion Big E. He reunited with Heyman the following night and started daring Reigns to face him in a Champion vs. Champion match at WrestleMania.
Reigns turned down the idea, then cost Lesnar the title in his match against Bobby Lashley at the Royal Rumble (Heyman rejoined him in the process). But Lesnar wasn't finished as he won the Men's Royal Rumble later that night from the No. 30 spot, then won back the WWE Championship inside the Elimination Chamber a month later in Saudi Arabia. With no other options, Reigns agreed to a Winner Take All match to unify the two titles.
For those keeping score at home, the two men enter this upcoming match with a 2-2 record against each other in singles competition. But the real question remains — what can this match bring that the others did not? This isn't the first time they've met at WrestleMania, nor is it the first time the Tribal Chief version of Reigns has clashed with the more jovial version of Lesnar .
About Post Author