Ronaldo, a five-time Ballon d'Or winner, heads to the Gulf after a painful year that saw him relegated to the Portugal bench and sudden exit by Manchester United. Ronaldo will be officially unveiled by Al-Nassr on Tuesday after agreeing a contract that runs until 2025 and is reportedly worth more than 200 million euros per year.
Cristiano Ronaldo's reported Al Nassr wages:
€200,000,000 per year
€16,666,666 per month
€3,846,153 per week
€547,945 per day
€22,831 per hour
€380 per minute
€6.34 per second

The largest salary in football history.
Al Nassr fans chant Cristiano Ronaldo's name at the recent match after signing him.

Excited Al Nassr fans chanted Cristiano Ronaldo's name and performed his trademark 'Siiiu' celebration in the stands as they await his arrival in Saudi Arabia.

The Portuguese star, 37, has completed a hugely €200 million-a-year transfer to the Middle East following his sudden exit from Manchester United.
And even though Ronaldo hasn't yet arrived at the club, Al Nassr supporters clearly cannot wait to see their new hero in action

In the seventh minute of their 1-0 win in the Saudi Pro League over Al-Khaleej on Saturday, video footage caught Al Nassr fans shouting 'Ronaldo, Ronaldo' before 'Siiiu', as has become his usual way of celebrating a goal.

Portuguese flags were also visible in the crowd at the Prince Mohamed bin Fahd Stadium. Al Nassr won the match thanks to a fifth-minute goal by Vincent Aboubakar, the result keeping the team one point clear of the top of the table.

It remains to be seen whether Ronaldo makes his debut when Al Nassr host Al Ta'ae at their own 25,000-capacity Mrsool Park on Thursday.
Ronaldo, 37, had been a free agent after leaving United in the wake of his controversial interview with Piers Morgan, with fans now flocking to social media to claim he is 'so done' after moving to the Middle East.

Rio Ferdinand has hit back after Gary Neville and Jamie Carragher expressed 'sadness' at the move, with the Sky Sports pundits saying the move marked the end of Ronaldo playing at the highest level.

The former United defender Ferdinand claimed Ronaldo's move should be compared to several ex-Premier League stars ending their careers in the United States, insisting 'no man on the planet' had earned the right to the move more than the Portuguese star.

'It was great to see David Beckham, Frank Lampard, Wayne Rooney, Steven Gerrard, it was great to see them go to America,' Ferdinand said on his Vibe with FIVE podcasts. 'What a way to finish their careers, getting great money, going to a league that's not as competitive, they've deserved that, they've earned the right.
'That's all I saw in the media. But because it's Saudi Arabia, it's a disgrace, and it's sad. Let a man go and live, let a man go and enjoy it. It's a new adventure he's taking his family to experience a new culture.

'Every single country in the world has its issues, so America has got fewer issues than Saudi, have they? But it's fine for all these players to go to America. Let's let them go to the States and have a great year.

'I don't like it. It stinks we're not hearing this type of talk. It's out of order.

'Everyone should be treated the same. Every other player that's gone to a less competitive league to end their career has been told you've earned the right. No man on the planet would have earned the right more than this guy.'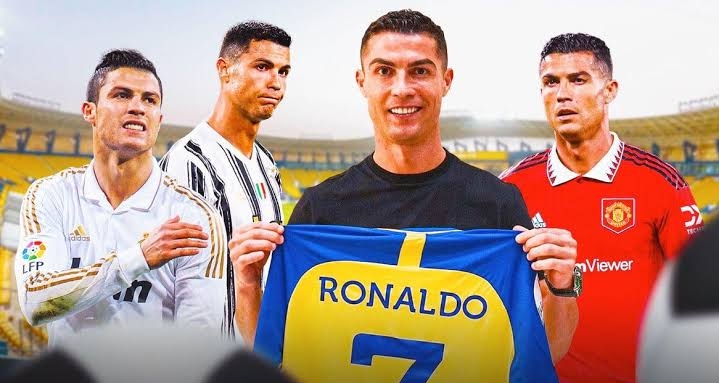 The €200m-a-year contract sees him become the highest-paid player in world football, with his contract set to run until June 2025, when he will be 39.

The Saudi Pro League club announced his arrival in a tweet saying: 'The world's greatest athlete officially signed for Al-Nassr', with Ronaldo also taking up an ambassadorial role.

Part of his role as an ambassador will be to help Saudi Arabia's joint bid with Egypt and Greece to host the 2030 World Cup, it has been claimed.
About Post Author