It is very hard to play football without tough tackles and touches. That is the reason almost every player has seen a yellow card at least once in their career. Footballers with zero red cards are one of the rarest things in the sport. This article focuses on those players who may have been booked but were never shown the red card in their careers. People nowadays have started realizing the value of sports in their life. Any sport whether it's football, cricket or tennis, a sport these days is not only about gameplay but character building. Sports at the end of the day depend on, 'Rules, behaviour, and respect'. They are those important words in a game that every player must follow. Here are the top 5 players in the world who have played a respectful game of football without conceding a single red card in their career.
5. Michel Platini
Michel Platini had an incredible career. He is one of the greatest players of all time. Platini won the Ballon d'Or three times in a row, in 1983, 1984 and 1985. He was a key player of the France national team that won the 1984 European Championship, a tournament in which he was the top scorer and best player. Platini is also one of the footballers with zero red cards in his career. He made a total of 652 appearances during his career both with his nation and club; 580 with the club and 72 at Country but he was never shown a single red card in any one of these appearances.
4. Karim Benzema
Karim Benzema is the second player from France to feature in this list after Platini. A creative and prolific forward, he is regarded as one of the best strikers of all time. He is Real Madrid's all-time second-highest goalscorer and top assist provider. Benzema has won five UEFA Champions League titles. For his performances in 2021 and 2022, Benzema was awarded the UEFA Player of the Year and the Ballon d'Or. He has played 868 games for the club and country and due to his good behaviour has not received a red card till now.
3. Ryan Giggs
Ryan Giggs is a Welsh football coach and former player. Regarded as one of the greatest midfielders of his generation, Giggs played his entire professional career for Manchester United. He has 64 appearances for the country and 632 appearances for the club. Giggs was never sent off the pitch. Giggs is one of the most decorated footballers of all time. During his time at Manchester United, he won 13 Premier League (more than any other player in history) and two UEFA Champions League.
2. Raul Gonzalez
One of the greatest strikers of the game and a Real Madrid legend Raul Gonzalez, popularly known as Raul played over 1000 games but never received a single red card in his career. However, his total tally of appearances is 1044 with 942 at the club level and 102 appearances at the international level. He is the current manager of Real Madrid Castilla, a second team of La Liga club Real Madrid. He has the most appearances in the history of the club. Raúl won six La Liga titles and three UEFA Champions League titles.
1. Andrés Iniesta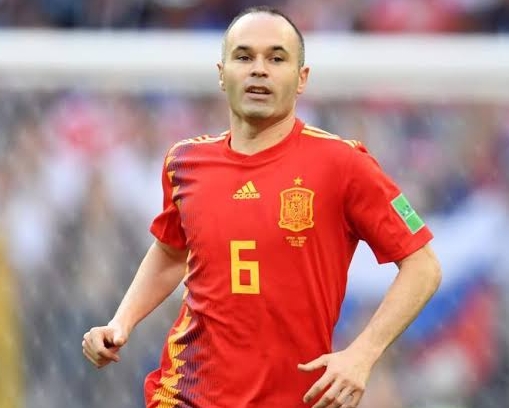 Andrés Iniesta is a Spanish professional footballer who plays as a midfielder and is the captain of the J1 League club Vissel Kobe. Considered one of the greatest midfielders of all time. He is the second player from France to feature in this list after Raul. He made a total of 802 appearances for Barcelona and Vissel Kobe. He has 131 appearances for the Spanish national team. But he was never shown a single red card in his career. He has won nine La Ligas and four UEFA Champions League titles, making him the most decorated Spanish footballer of all time.
About Post Author