Former Haryana CM Om Prakash Chautala has been convicted by the Rouse Avenue Court of Delhi in the disproportionate assets case. The court will now decide the sentence on May 26. Om Prakash Chautala remained present in the courtroom during the hearing. Earlier on May 19, the Rouse Avenue Court had reserved its verdict in the case of possessing disproportionate assets.
came out of jail in 2021
Raised assets worth Rs 6.09 crore
were also found guilty in JBT scam
came out of jail in 2021
The troubles of 86-year-old former Chief Minister Omprakash Chautala have increased after the court convicted him in the disproportionate assets case. He had come out of Tihar Jail on July 2 last year in the JBT recruitment scam. Now he may have to go to jail again. On May 26, there will be a debate in Delhi's Rouse Avenue Court regarding the quantum of punishment for Chautala.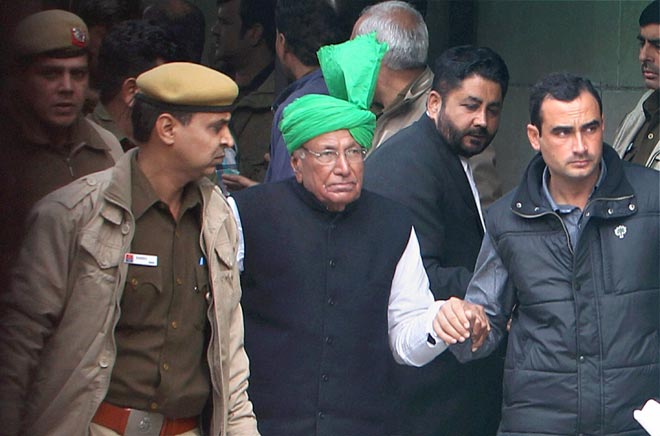 Raised assets worth Rs 6.09 crore
The CBI had filed a charge sheet against former Chief Minister Chautala on 26 March 2010. The CBI, in its charge sheet, had held Chautala responsible for allegedly amassing assets worth Rs 6.09 crore, disproportionate to his legitimate income, between 1993 and 2006. Let us inform that in the year 2019, the Enforcement Directorate had attached properties worth 3 crore 68 lakhs of former Haryana Chief Minister Om Prakash Chautala.
Om Prakash Chautala
were also found guilty in JBT scam
Former CM Om Prakash Chautala was convicted in the JBT scam in 2013. He was sentenced to seven years in the Prevention of Corruption and 10 years for conspiracy if found guilty. He came out of jail after completing his sentence on July 2 last year.
Related searches-
om prakash chautala movie,wife of om prakash chautala,om prakash chautala property,om prakash chautala net worth,om prakash chautala education,om prakash chautala class 10,om prakash chautala father,om prakash chautala cars
read also-
Mahindra Scorpio N 2022: new Scorpio can be launched on this day
Mahindra Scorpio N The new Mahindra Scorpio can be launched in the last week of June, possibly on May 27, 2022. The company has asked its officers to be ready from June 27 to June 29. Also, a message reads "BLOCK YOUR DATE" and has indicated that the new Scorpio may be introduced at this time.
While, according to media reports, the upcoming model will be a diesel spec, with great styling, better features and more. Several updates can be found including a bigger cabin.
The car is going to get a new large touchscreen, digital instrument cluster, connected car technology, sunroof and many such luxury features. At the same time, the driver display is digital and steering mounted controls have also been seen.
The new Scorpio is bigger than the current model with a longer wheelbase, which means it will take up more space. The vehicle will be based on the maker's new ladder-on-frame platform and could also get a four-wheel drive option.
Related searches
mahindra scorpio 2022,mahindra scorpio n price,mahindra scorpio price,mahindra scorpio n expected price,new mahindra scorpio 2022 price in india,new scorpio 2022 images,mahindra scorpio 2022 launch date,mahindra scorpio launch date, automobile, latest news, 2022 mahindra scorpio, mahindra scorpio 2022 launch date, 2022 Scorpio features, mahindra scorpio 2022 launching,scorpio 2022 launch date in india,महिंद्रा स्कॉर्पियो 2022,स्कॉर्पियो 2022 की खासियत,स्कॉर्पियो 2022 सेफ्टी रेटिंग,स्कॉर्पियो 2022 फीचर्स # Automobile
Domestic vehicle maker Mahindra & Mahindra Limited (M&M) has said that its new sports utility vehicle (SUV) model 'Scorpio-N' will be introduced on June 27. Its code name is Z101 (Z101). The company has said that the Scorpio model, which has been established as a reputed brand in the last two decades, will also continue as the 'Scorpio Classic'.
About Post Author