HTC Viverse will be launched next week on June 28. Under-display camera will be available in this premium flagship phone. Also, it can work on AR-VR based technology.
HTC is ready to make a comeback once again. The company is about to launch the premium flagship next week. HTC has teased this smartphone through its official Twitter handle. The shared poster shows a sketch of a phone with an under-display selfie camera. The company has used the name HTC Viverse in this post. Come, know about this upcoming product of HTC.
HTC wrote in its Twitter handle – One week to go 2022.06.28 #HTC #VIVERSE #Seeousoon #createmymetaverselife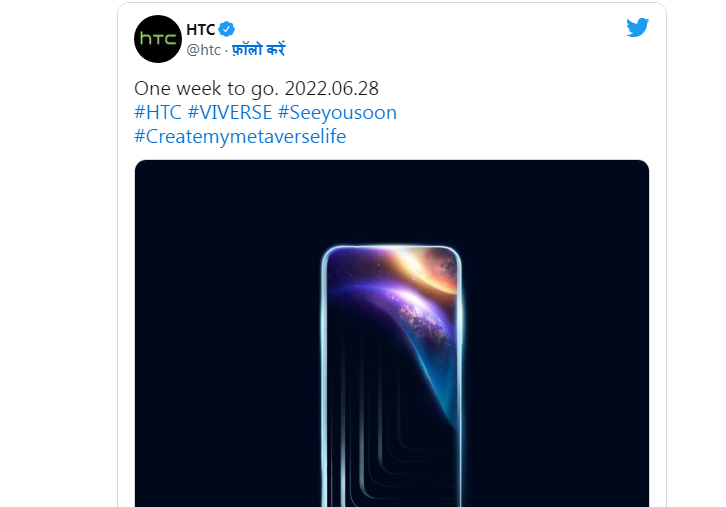 The company is known for its touch screen smartphones. In 2019 too, the company launched budget smartphones in the Indian market under the name of Wildfire. At the same time, the company's Desire series also comes, but the company has lagged behind other brands for the last few years. Through the upcoming flagship phone, the company can once again try to hit the market entry.
This event of the Taiwanese company will be held on June 28. The company still makes HTC One X or HTC One M8 smartphones. This smartphone was to be launched in the month of April, but in view of the increasing cases of coronavirus epidemic, its launch was pushed forward.
HTC Viverse phone will be based on AR-VR!
HTC has not shared details about any specification of the phone in its tweet. However, according to an already leaked report, it may have the integration of open source metaverses. This is the reason that this phone of the company will come under the name of Viverse. Also, it could be based on AR (Augmented Reality) and VR (Virtual Reality) technology. Apart from this, the upcoming flagship phone can support HTC Vive Flow VR headset.
About Post Author